1. Maintenance and repair of the mallets :
Before being mallets manufacturers , we are musicians and we are kean to be able to repair your mallets that can be damaged by accident or by the wearing effect of time.
All mallets branded RESTA-JAY are designed to be repaired if needed, but we want to go further by offering also to repair your mallets from other brands. In that case, go to the tab "repair" in the store page.
Services sample :
replacing the felt on timpani mallets
recovering vibra and marimba mallets
straightening rattan handles
replacing wood, bamboo or rattan handles
manufacturing unit mallets in the case of a loss of a mallet or to complete a mixed set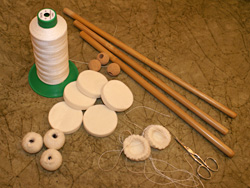 2. Maintenance and repair of instruments :
Rich of our experience and our partnership with some other manufacturers, we propose to ensure the maintenance of your percussion instruments. You can contact us for the restoration of your instruments, whether it is a change of skin, a tuning, an adjustment. We shall know how to satisfy your needs, or guide you, so that you can enjoy completely your instruments.
Services sample :
tuning and replacement Timpani skins
tuning xylophones, marimbas, vibraphones and glockenspiels
voicing and balancing of harmonics
precise tone indexing (440, 442 or other)
replacement of defective bars
maintenance and tuning of resonators
frame review