1. Equipping the class room with percussions
In order to make the teacher's and the student's work easier, a lot of schools have decided to acquire a « spare set » of mallets. It will be as useful for the «absent-minded» student, as for the teachers who will be able to work in individual or in formation with always the same good set of mallets in hand.
2 . Packs especialy designed for your students
Listening to students and percussions teachers, we try to simplify life for everyone by offering mallets packs.
Purchasing a pack allows substantial savings for the students and in a mean time, it guarantees a suitable bag to keep their material handy and in good shape.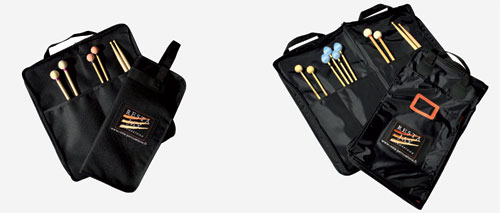 Including a selection of study mallets, these packs are designed to start learning percussion in full serenity with an adapted material of quality, at low cost.
Both packs are designed to be complementary in accordance of the specific needs of learning for the 2 first cycles and with the experience of Thomas VANDEVENNE (Teacher at the Strasbourg's Music Academy).
Acquiring the all pack allows a student of 2nd cycle to have a large sound potential and to play on most of the percussion instruments.
These packs have been designed so that you can choose the models that suit you best in the professional range of mallets.

Free to choose the hardness of mallets according to your desires and your needs!
Essential partner in percussions shows !
Our unique manufacturing process has allowed us to create the Percus'Mobil, worthy heir of the legendary Percus'Bus... We are very committed to the relationship and exchange with our customers. This is why we have developed a unique concept : a mobile showroom and a mobile repair and production shop.
That way, you can reach us during any kind of event and meeting regarding the world of the percussion. We visit schools, academies, contests and festivals occuring in all Europe. It just needs 30 minutes to settle the stand and be operational to repair the client's mallets, produce new models made to measure, and to propose most of our products.
So you can choose the products that suits your needs. Each feature can be chosen on place (handle, length, flexibility)...