Story of a passion, that became know how...
In the 1980s, Pierre-François RESTA studied at the Music Conservatory of Paris and specialised in the marimba at the Rotterdam Music Conservatory. Talented musician and teacher at the Music Conservatory of Dijon, he did not find any mallets that really suited him.Thanks to his resourcefulness and creativity, also because of his passion for music, he started his own research to produce its own mallets. Unconsciously, he started the story of a small French company that would become indispensable in the international percussions landscape…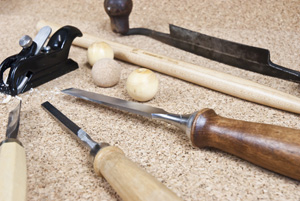 Since the creation of the company RESTA PERCUSSIONS in 1989, passing by its takeover by
Emmanuel JAY
in 2009 and until today, its objectives and skills have not changed:
To provide high quality innovative material, in response to the needs of percussionists.
To listen to and advise anyone, whether a beginner or a professional.
To Ensure the suitability of our products in accordance with each personality.

Creation and innovation are our main concerns and that leads us to develop products, for musicians around the world, that will meet their expectations, with ever-changing ranges and with new technologies. Our role is to synthesize all these approaches making the richness and diversity of percussion as we know it today.
Rich of a preserved know-how, and in the respect of a unique manufacturing process, we offer a constantly evolving catalog of mallets.
It meets the needs of all musicians and orchestras, professionals or non professionals. Everyone will find the product that will suit its needs.