Gert François studied at the Royal Conservatory of Ghent,where he obtained his Masters Degree in Percussion and Chamber music.He continued studying in search for perfection with Ruud Wiener (Vibes) and Adam Dramé ( African percussion). Since 1987 he is head of the percussion departement at the Royal Conservatory of Brussels (school of Arts Brussels) .Regulary he is invited as a gast teacher around the world : China-Sweden- Norway –USA-Italy etc.
As performer he is principal timpany and section leader at Brussels Philharmonic with whome he obtained an Oscar for best filmmusic with "the Artist" and a Golden globe for the music of "The Aviator". You can find him with Brussels Philharmonic on the main International stages and concert halls of the world .For instance London-Paris-Vienna-Berlin-Amsterdam-Bejing etc.
As solist he created " Raga I" of Wim Henderickx in the version of percussion solo and 2 piano's with the piano duo Heidi Henderickx/Levente Kende .Later he recorded the orchestral version of "Raga I" with "De Filharmonie" with the conductor G.Llewellyn. With the first performance of "sketches" of V.Globokar he had the pleasure to perform with the composer / S.Poelmans and the Master Ud player M.Bashir. During" Big Bang" percussion concerts he had the pleasure to perform with Percussion Masters such as Trilok Gurtu / Doudou N'Diaye Rose / Mamady Keita / Han Bennink / Madjid Khaladj among others.
As solist he was invited by ,Brussels Philharmonic , De Filharmonie , Münchener Philharmoniker , Kristiansand Symphony Orchestra , Dalarna Symfonietta , Shanghai Philharmonic.
With conductors like ,J.Latham Koenig - K.Montgomery – G.Llewellyn – B.Bouckaert – J.Mc Millan – Tan Dun – S.Ashburry – B.Engeset – M.Soustrot and G .Guerrero.
In 1999 there was the CD release of "Raga I" from Wim Henderickx with "De Filharmonie" with the conductor G.Llewellyn.
In 2001 the first Belgian recording of "sonata for 2 piano's and 2 percussionists" of Béla Bartok with piano duo Inge Spinette/Jan Michiels and percussionist Bart Quartier.
In 2003 CD recording of "Confrontations" of Wim Henderickx together with Djembé master Adama Dramé in a production of Zuiderpershuis. This piece was performed in Africa and Europe.
In 2005 there was a succesfull tour with Shanghai Philharmonic in China and Japan performing "waterconcerto" of Tan Dun with the Maestro himself.
There was also a Belgian Première of "Veni Veni Emanuel" of James Mac Millan with the composer conducting The Flemish Radio Orchestra.
In 2006 world première of "watermusic solo" of Tan Dun.
In 2008 he played the glockenspiel solo part in "Des Canyons au Etoiles" of Olivier Messiaen with Brussels Philharmonic/VRO under the baton of M.Soustrot.
In 2009 the creation of "liever misschien dan alleszins" of Frans Geysen for percussion ensemble and timpani .Conductor Bart Bouckaert.
In 2011 the world première of "Groove" the percussionconcerto of Wim Henderickx with Brussels Philharmonic and G.Guerrero.
Gert Francois Signature Model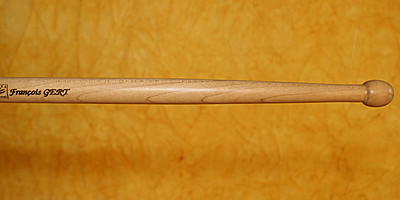 Snare drum and Multi-percussion sticks in Maple. Round and deep attack on the natural skins (conga / bongo). Lightness and fluidity, ideal in multi-percussion.
For Rebonds of Xenakis or Raga1 of Wim Henderickx.
Discover the signature artists