Emmanuel Séjourné leads a triple career as a composer, singer and teacher. He became one of the most famous percussionists, specialized in the keyboard percussion. After studying classical piano, violin, music history, acoustics, and music analysis at the Music Academy of Strasbourg analysis, Emmanuel continued pursued his training with Jean Batigne, at the time also founder and manager of the Strasbourg Percussions. Brilliant student, he won the first prize in percussion in 1980 and chose to specialize in the field of keyboard percussion.
He started his career in 1984, and his nominated as professor of keyboard percussion at the Strasbourg Conservatory. He won the Grand Prix audiovisuel de l'Europe with the album "Saxophone and Percussion" recorded with saxophonist Philippe Geiss and the band Noco Music.
Fascinated by the combination of different artistic expressions forms , he composed for any kind of formations. His rhythmic, romantic and energetic music, draws its inspiration as much from occidental classical music as from pop culture (rock, jazz, extra- European music).
Emmanuel Séjourné also composed theater music, distinguished by the Cesar award for the best music at the Theater Festival of Avignon. Then, upon the second millennium of the city of Strasbourg in 1988, he was requested to compose the music of the show "The Invaders" for the Ballet du Rhin. Always interested by the concept of show he wrote "Planète Claviers" in 1998 for the Percussion Claviers de Lyon , orded by the Grame festival. Burlesque and unusual, this show will be played over 120 times...
Afterwards, he composed "Famim" commissioned and performed by jazz pianist Michael Borstslap and the Amsterdam Percussion Group, and then, at the request of the Luxembourg National Theatre, he wrote the musical "School Boulevard".
Many of his concertos were particularly acclaimed and emerge as essential in the repertoiry. Among them, we find , as example, his Concerto for Vibraphone and String Orchestra and his Concerto for Marimba and String Orchestra, commissioned and performed by Bogdan Bacanu and along with the Salzburg Solisten .
Along with the New London Chamber Choir, Emmanuel Séjourné created "Séance" for soprano, midi vibra and choir, the English composer James Wood - work which, by its original use of midi vibra, allows new instrumental perspectives.
Member of the contemporary band Accroche-Note, he created, up to date, more than one hundred works of composers such as Donatoni, Dillon, Aperghis, Manoury, Fedele, Mâche or Pesson.
Emmanuel Séjourné also practice improvised music and jazz, particularly with Swuiss guitarist Max Lasser, Swiss percussionist Fritz Hauser, and the composer Friedemann with whom he won the German Jazz Award Gold 2012 for the album "The Concert".
Currently he performs regularly in a duo program of percussion keyboards with Sylvie Reynaert.
Among his numerous educative pieces, we can find particularly a method for keyboard percussion in 6 volumes. He is also co -author for "10 Years with percussion", published by the Cité de la Musique in Paris.
Emmanuel Séjourné "Modern Touch" Marimba Model
Medium clear - quite heavy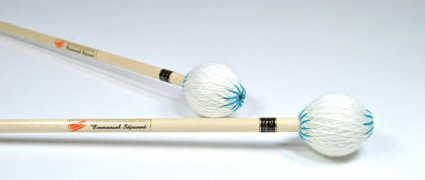 This model is precise, solid and develops a full, rich sound. It allows to play a large repertoire as a
soloist, with or without accompaniment ... Its projection sound is made easy through its conception and pronounced weight, quite heavy. Very good articulation on the entire keyboard.
Emmanuel Séjourné "Prestige" Vibraphone Model
Medium - Clear sound - Moderately heavy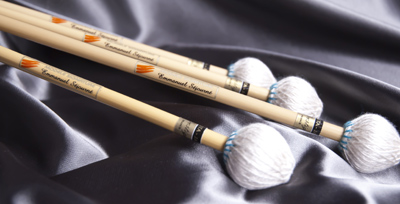 These mallets are used to get beautiful colors tone and a projection of Homogeneous sound.
Discover the signature artists