Since 1983, Five passionate and demanding musicians rise to the challenge of always maintaining the existence of a band dedicated to innovative keyboards percussion, a unique quintet which develops a constantly evolving repertory.
Combining marimbas, vibraphones and xylophones, and always in the will of excellence and exchange with the audience, these musicians, daring and virtuoso, explore and exceed the types, forms and techniques, appropriate and recreate with talent the music of our heritage, arouse interest from contemporary composers, and ultimately offer an eclectic repertory made up of recognized transcriptions and creations.
Their orchestra with five musicians surprises and captivates the public from Lyon to Pekin with spirited rhythms, melodies in dynamics, and it built the story of a show with the meeting of Debussy, Ravel, Bernstein and contemporary composers.
Members of the Percussions Claviers de Lyon : Raphael Aggery, Sylvie Aubelle, Jeremy Daillet, Gilles Dumoulin and Gerard Lecointe (Artistic Director).
Percussions Claviers de Lyon videos
Percussions Claviers de Lyon Signature Series
Mallets percussion ensemble : The Collaboration between «Percussions Claviers de Lyon» and RESTA-JAY Percussions company gave birth to a mallets series with pronounced weight, mixing depth and richness of sound. Perfect for duo, trio, quartet, quintet... The overall design of the series provides high accuracy and promotes the balance of each instrumental part.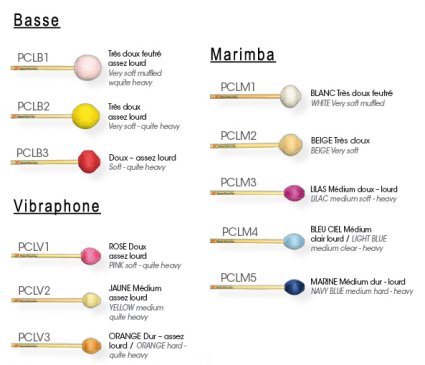 Percussions Claviers de Lyon discography
Discover the signature artists