The percussions mallets have a decisive role in the sound projection and the definition in an orchestra or in a formation.Some of our mallets were designed for the orchestra and others are very popular because their polyvalency and playability have been proved.

Here is a selection by instrument :

Percussions Claviers de Lyon

- X03 "Signature Jean Michel Davis" Their heads provide a wealthy sound on wooden keyboards. Colour, warmth and comfort are the hallmarks of this reference.
- X11 "Classical Concert Model" : Polyvalent, light and hard-wearing, they are hard without being too aggressive. They can also help out on glockenspiel if necessary.
- X01 "Classical Model" : Very hard and shiny, they gather lightweight and polyvalency. Very effective too when used on glockenspiel.
- X001 et X02 "Classical Model" : Very hard and shiny, their wery pronounced weight allows a great sound projection. Also very effective on glockenspiel.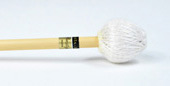 - VR5,5 Classic Serie : clear and precise mallets, also shiny and very rich, the VR5,5 are appreciated for their polyvalency and their medium weight.
- VR7 Classic Serie: very clear and very precise mallets, the VR7 allows a very incisive and direct music set.
The marimba is difficult to bring out of a big formation, in consequence most musicians are using hard models :

Finally, do not hesitate to use vibraphone mallets that will give a better definition in a formation.