Much more than your mallets... your sound, your personality !

Decisive in your musical project, real link between yourself and your instrument, your choice define your personality. We are aware of the essential role of your mallets, which comfort you, allows the expression of your musicality and reveal your creativity.The company RESTA JAY-rich of its know-how, makes every effort to offer you a wide choice, in constant evolution and benefiting from the latest innovations and developments of the company.
Since 1989, Resta-Jay Percussions takes great care in the selection of the material used in the manufacturing. Their choices, their origins and their regularities guarantee the quality and specificity of mallets RESTA-JAY.
The unique method of manufacturing allows a multitude of possibilities and in consequence allows the creation of many different models but all made with the optimal attention.Every main stage of manufacturing is made manually and checked regularly. Design and work of the mallets heart are made according to our unique manufacturing processes.Legacy of a long experience and a constant exchange with musicians, the RESTA-JAY's know-how is now recognized worldwide and can adapt the mallets manufacturing to any kind of the percussionnists requirement at any level.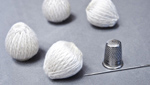 CORE : The design and the materials of a mallet's head will have a significant effect on the sound which is produced. Constituent materials were mostly especially developed by the RESTA-JAY PERCUSSION company, and are a combination between natural and synthetic materials.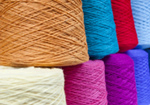 YARN : Each mallet for vibraphone and marimba is covered by yarn combining several types of materials that are developped according to our high quality standards. All of them are then sewn manually.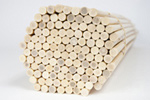 RATTAN : All our rattan handles are rigorously selected, calibrated to 1/10 millimeter. Flexibility is also measured and calibrated for a perfect homogeneity of the sound.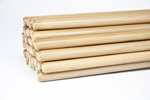 BAMBOO : Each pair of mallets is calibrated to the gram. The node is positioned in the middle of the handle for a perfect balance.
Very precise polishing of the bamboo, unvarnished, for a very pleasant contact without slipping.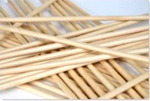 WOOD : Made in Canadian maple, our handles are balanced to the gram and have a satin varnish finish.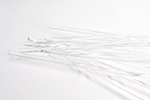 COMPOSITE : Composite handles offer an excellent alternative to rattan for student mallets. Average flexibility facilitates the playing and the sound development on xylophone ans vibraphone.

By offering each year, a new range of mallets stemming from the the innovations of the brand, the company Resta-Jay will be a full stakeholder in the evolution of the musical language, for which the percussion plays an increasingly important role.
Aware of the evolution of the repertory, of the instruments and technology, RESTA-JAY takes part in an ongoing process of research involving engineers specialized in all different materials composing the mallets.
Essential to the creation of new mallets, this development of new materials, combined to our experience and to the collaboration with the most international famous percussionists, can give birth to new sound offers.