Jean Geoffroy's Biography
Further to studies at the Paris National Superior Conservatory where he won the first prize in percussion, Jean Geoffroy has followed his personnal path in the world of percussion, that led him to create and play many works.
Jean Geoffroy is dedicatee and often, the first performer in a lot of works for solo percussion including pieces of I. Malec, Y. Taira, J.L Campana, F. Durieux, E. Tanguy, P. Leroux, L. Naon, F. Paris, Y. Maresz, D. Tosi, P. Hurel, B. Giner, B. Mantovani, B. Dubedout, C. Lenners, L. Martin, M. Reverdy, M. Matalon, J. S. Baboni, S. Giraud, I. Urrutia, P. Jodlowski, Xu Yi, Mr. Lupone, F. Narboni, T. Mey... He also created young composers pieces such as : J. Dassié, J. Choi, Mei Fang, J. Koskinen...
Regularly invited as a soloist in the most prestigious festivals all over Europe, he has participated in the Netherlands to a series of concerts with Keiko Abe. Jean Geoffroy regularly gives recitals and master classes all over Europe, South America (Argentina, Chile, Mexico, Colombia), Asia ( Korea, Japan, China, Taiwan) and North America (Canada and USA).
Timpanist soloist of the Paris Orchestral Ensemble from 1985 till 2000, soloist of the contemporary music ensemble "Court-Circuit", he was laureate of the Menuhin Foundation "Presence of Music". Tireless performer when it comes to bring a new work to life, Jean Geoffroy has participated as soloist in nearly thirty records among which 5 records devoted to J.S. Bach and incorporatinf the totality of the suites and partitasand sonatas written for solo instrument, "Attacca" hailed by music critics when published and "Monodrame" released in 2006.
In 2004, he created the Thierry de Mey's piece : "Light Music" to "solo conductor" and set up an interactive plan at "Music in Scene" festival in Lyon. This collaboration with Grame and Christophe Lebreton opened up new perspectives and allowed him to explore other areas and other directions in his career as a soloist.
Passionate about teaching , author of several educational books including a book on the teaching of percussion in the Collection "Point de Vue", he is editor of "10 years with the Percussion...", published by the "Cité de la Musique". Collections Manager at the "Editions Lemoine", he created "Regards" in 2005, a new collection published by the "Editions Alfonce"
Teacher of percussion at the Lyon National Superior Conservatory since 1999, Jean Geoffroy taught from 1993 till 1998 at the Paris National Superior Conservatory with J. Delécluse and from 1998 till 2007, at the Geneva Superior Conservatory within its percussion department.
Furthermore, since few years, Jean Geoffroy assures a conductor activity which leads him to direct different formations in France and South America, in particular with the instrumental steel band of the Bogota's National University, with who he has performed works of P. Boulez / K. Stochausen / H. Vasquez... but also worked with the steel band Namascae around the works of Eric Gaudibert.
Guest conductor of the Mésostics ensemble with whom he plays regularly, he has recorded a CD dedicated to Martin Matalon as well as a DVD / Philippe Hurel .
Artistic Manager of the Geneva International Centre of Percussion "EKLEKTO" from 2007 till 2013 and didactic teacher at the Paris National Superior Conservatory, he is jury in many international contests. He is also a member of the reading committee at IRCAM.
Signature Model Jean Geoffroy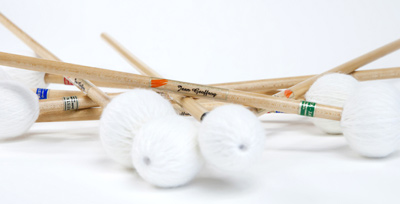 «It seems to me that these mallets were always here in each and every moment of my work on the marimba.
Inseparable from a breath, a gesture, a sound, a phrasing, the mallets are the essential element, of my work as a musician, before the marimba itself... To find ourself «at home» with a sound that we reconized is the most important thing, wherever we play, on whatever instrument.
These mallets are more than just simple mallets. They are a suggestion, an invitation to look for again and again a sound in which we find ourself, the one that will enable us to play, «to play with», and then to try to reach our musician's dreams.»
Jean Geoffroy
Signature model Jean Geoffroy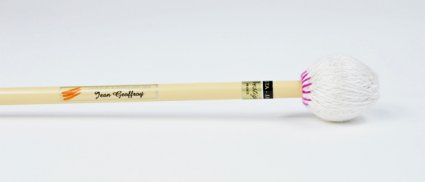 «Vibraphone is fortunate to count among its repertoire essential pieces of music of the 20th and 21st century.
Whether Donatoni, Manoury, Denisov, Hurel, Taira, Smith, Lopez Lopez, Stockhausen, Matalon, Alsina, or Narboni Malec, Boivin, Dassié, Martin, Sprintz, Campion, Giner, Deane, and many others, without speaking of Freidman, Samuels, Müller, Davis parts... the list of works that have been able to use this instrument to develop languages ​​and perspectives on creating music is now very long.
Often proposed by the composer himself, the choice of mallets is an integral part of the tools of the interpreter. In the same spirit with mallets for marimba that I developed with Pierre-François Resta for many years, these 2 sets of "Prestige Series" mallets for vibraphone created by Emmanuel JAY offer a wide range of phrasing colors of thicknesses.
These mallets often offer the possibility not to change mallets as is sometimes indicated in some partitions without colors or extreme effects, changes that are often problematic in the conduct of the general movement of interpretation. They allow you to play most of the parts for vibraphone solo and in all styles.»
Jean Geoffroy
Discover the signature artists