One ambition, your sound !
Our experience in the fields of music, as teachers or musicians, allows us to advise you, help you and support you in your musical projects by providing our knowledge in the manufacture of your mallets.
Emmanuel JAY – Manager -

Creation of mallets - Manufacture and adaptation.
Emmanuel JAY
 followed his study at the Music Conservatory of Bourgoin-Jallieu, Lyon and Dijon.Master military drummer, healso holds a DEM (Diploma in Musical studies) in percussions, a Military drum Excellence Award and he played in various formations : Dijon's Air Forces Orchestra, quartet jazz and Latin music, bands of military drums, percussion trio...Besides his job as a musician, he is a teacher of percussions and drums.He is also the author of a drums method, and of many pieces for percussion ensembles and military drums.That was in 2009 that he succeeded to Pierre-François RESTA at the company's management.
Since then, the company has modernized, obtaining numerous awards by constantly seeking improved product quality.
Emmanuel manages the manufacturing and creates mallets for the artists.
His experience is essential in his profession as manufacturer and designer of mallets, profession that he does practice with passion. In 2020, Emmanuel creates, with Jonathan Tabaret, a new manufacture of percussions instruments, the
SOUNDRUMS
society.
More informations : www.emmanueljay.com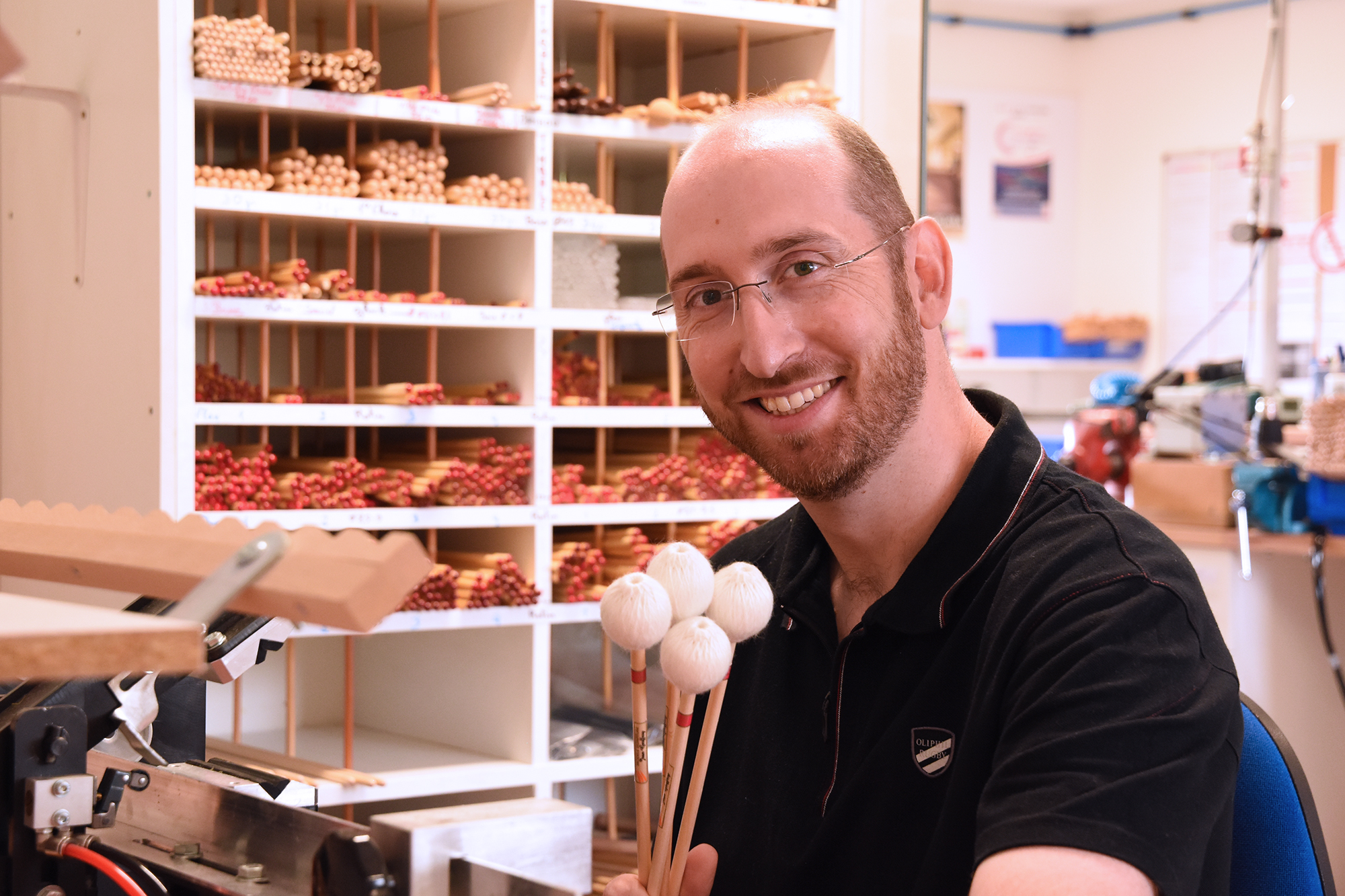 Audrey MAGNY - In charge of the workshop management - shaping, needle work and assembly
Audrey has been working in the company for several years. Her training and experience in different areas brought new skills to the company. Her investment in the workshop quickly allowed her to master a large part of the mallets manufacture.
After a formation within the "French companions", she was awarded a bronze medal as best apprentice in upholstery and created her own company before joining the Resta-Jay team.
Since 2019, after she completed her formation on the entire mallets'making process and fully mastered it, she's in charge of the workshop management.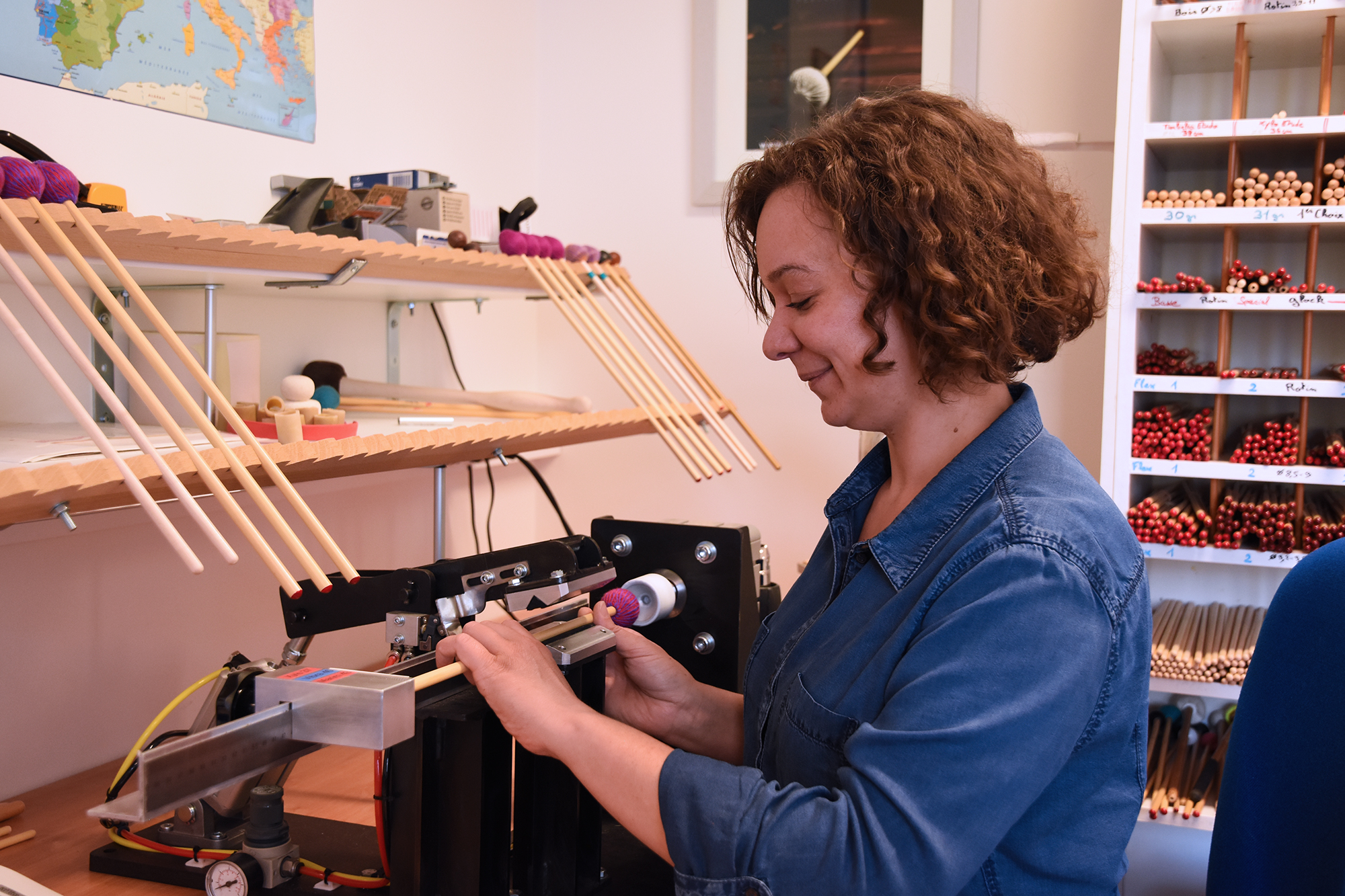 Cyril OUDOTTE - Needle work, stitching and felting.
Cyril joined the company in 2009. Graduate in percussions from the Conservatoire of Dijon, he has been teaching music for over 20 years in several music schools and also made his career in the Air Force Orchestra of Dijon.
His experience as a musician and teacher is fundamental in the company. Alongside his mallets' maker work, Cyril is still teaching percussions and conducting several formations, wind bands and percussion ensembles.
Within the company, he specializes in timpani mallets shaping and mallets sewing, both being done manually.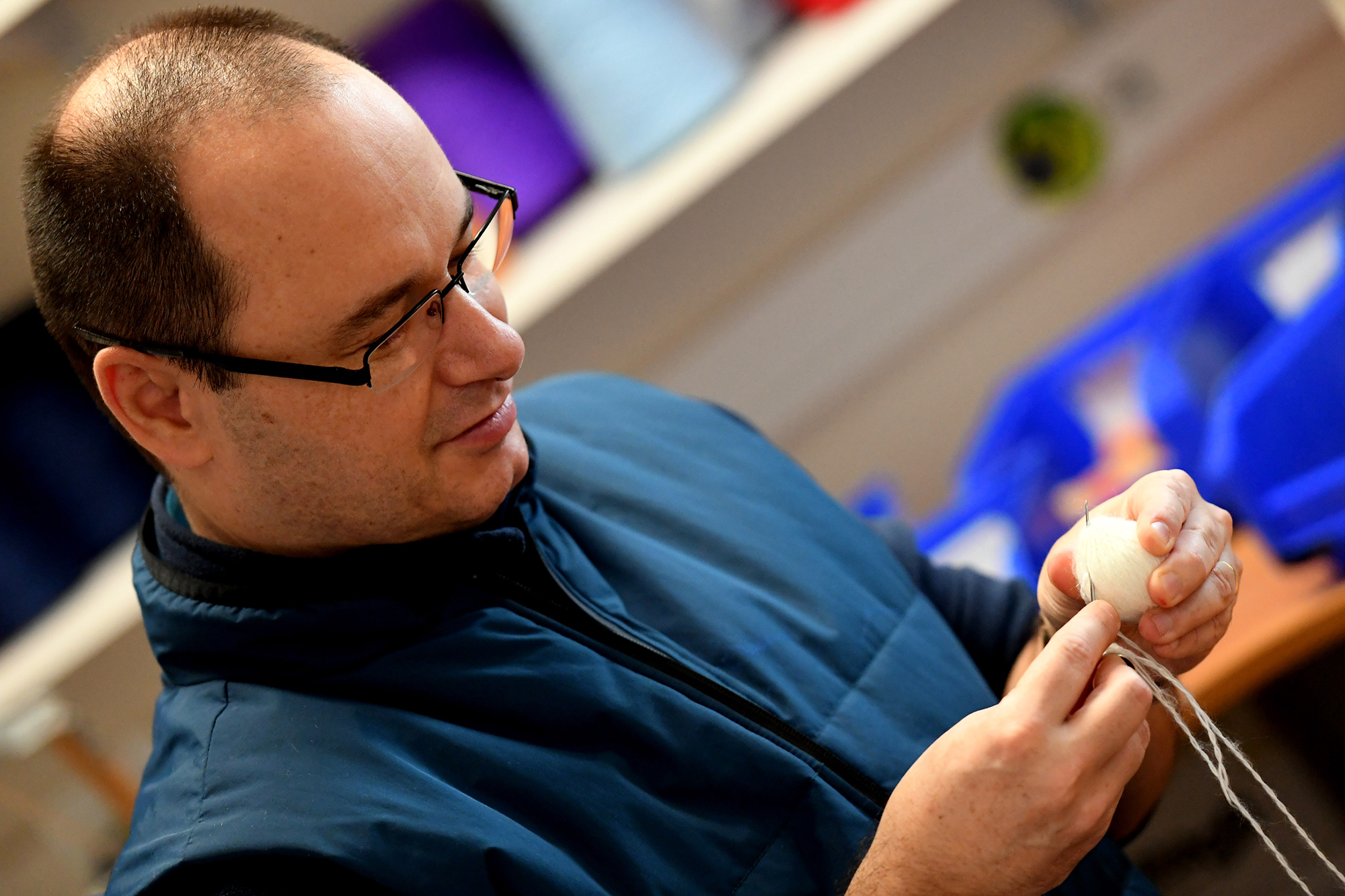 Elodie MICHEL-TRIGON – Mallets processing – Administrative assistant
The last one to join the adventure! With her PhD in physical chemistry, Elodie reinforces the company with many competences involved in mallets'processing. Both her scientific knowledge and crafting skills are committed to accompany our evolution.
Flute player as a hobby, she finds at the workshop a musical universe she has been involved in for many years.
Within her own brand "Le Labo d'Elodie", she also works in the domains of graphic creation and crafts such as paper and yarn arts.
www.lelabodelodie.fr
Elodie also takes part in the company communication and accompanies its development.